BlogLatest news at CommandFusion
Jarrod Bell

In part 2 of our interview with Jarrod Bell, he answers some questions about the current state of the home automation and control industries. So take 5 minutes out of your day to see where Jarrod thinks the industry is heading.
Did you miss part 1? Find it here.
Traditionally, the more expensive brands have dominated the automation and control industries. Do you see this continuing on? Why?
Solutions from all the major players are being introduced at lower price points all the time. So the big names are staying competitive, but the market is growing at a rapid pace, making room for newcomers like us to introduce innovative products and really make a go of it. I think the domination of the big names will reduce as the market grows, but new products like ours are designed in a way to be complementary to the existing solutions. They are not intended to be a complete replacement in all cases.
Everyone seems to want their house to be a "Smart Home". What do you see as the future of home automation?
In the past, home automation has always been controlling the major systems in your house such as your lighting system, your heating system your security system and so on.
The last few years have seen this point of view shift quickly. Sure, it can still be controlling those major systems, but now so many individual items can be controlled by an overarching control system. You can control an individual power outlet, or just your television - almost everything is connectable via Ethernet or Wi-Fi.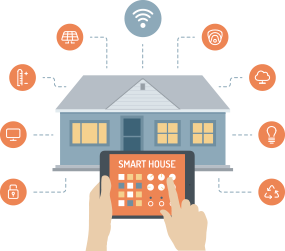 I think this trend will continue, but end users won't want to have to open up 15 different apps to control each device. They also won't be interested in using proprietary systems that demand you use certain devices. I think that most houses will end up with a single automation hub installed that controls most devices in the home, the user will have complete control of everything via their smartphone or tablet.
How do you see the "Cloud" fitting in with home automation and commercial control systems?
We have heard a lot about cloud enabled devices lately. It is easy to see why these devices get a lot of attention, who doesn't want their system to be connected to the internet for remote control and access? - it sounds great in theory! The problem comes when the devices rely on the cloud, so if your internet goes down they cease to function - I know this is a problem with some of the cloud enabled systems that have received a lot of press coverage lately.
The cloud should be utilised to add additional features which compliment the devices main functionality. Things like adding the ability to control the device from a remote location, remote deployment of new settings and configuration/setting backup are examples of good uses of the cloud. We are working towards implementing these types of features in CommandFusion products in the future.
"DIY" users are appearing in much larger numbers than ever before. What do you think of this, and how will CommandFusion accommodate their needs?
DIY is one of the newer market segments that remains mostly untapped and unsupported by the major automation manufacturers. From day one, CommandFusion has offered our products direct to DIY customers and offered unparalleled support to every one of our customers.
So we know that CommandFusion products are popular in home automation, but what other types of projects do you see your products going into?
We are seeing our mobile software engine being used by third parties to develop some exciting applications outside of home automation. The latest one is MediaPortal iViewer, an application to use your mobile device to control an open source home media center.
Another recent project involved using our mobile software to turn iPads into interactive digital signage solutions in a fashion boutique in Japan.
iViewer has even been utilised in emergency response vehicles in China.
Probably the most unique use of our app is by a customer in New Zealand who created his own dome observatory, controlled by an iPad running iViewer.
An iViewer interface used to control and monitor a dome observatory
These types of projects are not directly related to home automation, but are an obvious extension to that. So I see our software engine being utilized in a wider range of projects in the future, taking advantage of the simplicity and extensibility that our platform offers.
End of Part 2
So that brings us to the end of the interview, we hope you found it interesting! If you have any questions or comments regarding any of the information or opinions in these blog posts - feel free to comment or contact us via our Support Page
---
Want to reprint this blog entry in part or in it's entirety? Please read this first!
---