BlogLatest news at CommandFusion
It's now coming up to 2 years since the CommandFusion IR Learner was released, and we are yet to find an IR code that it can't learn!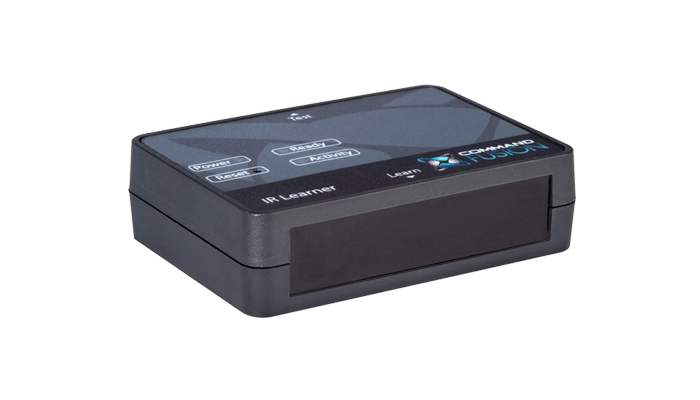 CommandFusion USB IR Learner
Undefeated!
We have thrown everything at the IR Learner that we can - split systems, pay TV remote, Bang and Olufsen, pedestal fans and have not yet found a code that it cannot learn.
The ability to learn any code is due to the wide range IR Receivers included with the IR Learner. Any code in the 30-455KHz range can be learnt by the one device. The specialized firmware also plays a major part in recognizing and learning difficult signal timing.
If we do happen to come across a code that the IR Learner is having difficulty learning, it will simply require a firmware update to solve the problem. These firmware updates can usually be developed and available in a matter of days.
IR Learner Software
The CommandFusion IR Learner is operated by connecting to a Windows based system via a USB port and using the free IR Learner software available from the CommandFusion website. You simply choose the commands you want to learn, then follow the instructions on the screen. Learning IR codes is fast and simple.
Inbuilt Blaster and Visual Analysis
Once the codes are learnt, you can test them directly from your IR learner via the inbuilt IR blaster. The IR Learner software also allows you to view and analyse the IR waveform, allowing you quickly debug incorrectly learnt codes.
Example Waveforms
Other Features
Other useful features of the IR Learner software include:
Import and Export Crestron .IR files
Comes complete with an on-board IR database of over 500,000 codes. Use on-board blaster to test code sets without requiring other hardware
Import 3rd party IR databases such as the Remote Central Mega List
Easily adjust and edit all IR code parameters to ensure you have the most efficient IR code possible
Store an image of the remote control you are learning commands from in the IR file
Learn More About The CommandFusion IR Learner
You can learn more about the IR learner by visiting this page.
To learn how to use the IR Learner, see our Quick Start Guide here.
Buy Your CommandFusion IR Learner Now
CommandFusion IR Learners are available through our many dealers and distributors. Click here to find one near you.
You can also order the IR Learner directly from our online store.
---
Want to reprint this blog entry in part or in it's entirety? Please read this first!
---