BlogLatest news at CommandFusion
CommandFusion IR Learner Software Updated - Crestron .ir file support, waveform view and more!
Posted By Aaron Green - 20 Aug, 2013
---
We have just added some new functionality to our IR Learner Software to make it even more powerful! It now has the ability to import and export Crestron .IR files. Also included in the latest beta update is the ability to view the IR waveform and store a photo of the actual remote control within the IR file.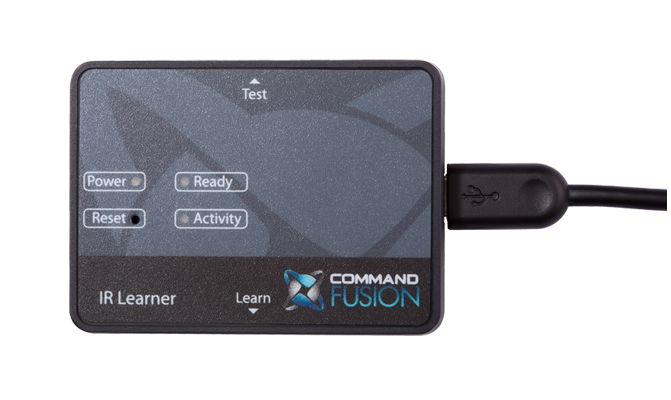 CommandFusion USB IR Learner
Export .ir File
The ability to export to a .ir file is a huge feature and could make Crestron programmers lives much easier. Use our USB IR Learner to learn all the remote codes you require, then export it to a Crestron .ir file. You can then use it in your Crestron project as you would any other .ir file.
Import .ir File
Use the new import .ir file functionality to open and view or edit your existing .ir files. Add new commands, remove unnecessary commands or manipulate the file as required. You can even repurpose the Crestron IR code data for use in other systems such as our CommandFusion automation hardware.
IR Code Waveform
The second new feature we have added is the ability to view the IR waveforms. Typically, learnt codes from the same remote control will be very similar. So you can quickly and easily tell if a code has been learnt incorrectly just by comparing the waveforms.
This functionality could also be used to pull apart an IR code, measure timings and much more.
Example Waveforms
Store an Image Within IR File
The third new feature is the ability to store a photo of the actual remote within the IR File. This is very handy for remembering button layouts and the functionalities of dual-purpose buttons on complex remotes. Take a quick snap with your webcam or browse for a photo on your computer. Just another feature to help make integrators lives easier.
Overview
Combine these new features with the fact that the CommandFusion USB IR Learner is the most powerful available – and you have the ultimate IR toolkit at your disposal.
We are yet to find an IR code that our IR Learner cannot learn. It has been tested with super long split system codes and high end audio codes such as Bang and Olufsen.
Why Choose the CommandFusion IR Learner?
Learn almost any IR code
Immediately test learnt codes directly from the IR Learner via the on-board blaster output
Comes complete with an on-board IR database of over 500,000 codes. Use on-board blaster to test code sets without requiring other hardware
Import 3rd party IR databases such as the RemoteCentral Mega List
Visually analyze IR waveforms
Easily adjust and edit all IR code parameters to ensure you have the most efficient IR code possible
IR Learner Quick Start Guide
Click the video above to get a quick overview of how easy the CommandFusion IR learner is to use or you can view the guide in a text format here.
Click here to learn more about the IR Learner.
View our IR Learner Wiki page to learn more about how to use the advanced features.
Download
To get a copy of the latest version of the IR Learner Software, click here. Be sure to download the beta version to get all the new features!
Order Your Own IR Learner Right Now!
Click here to see a list of our dealers and distributors to purchase your own IR Learner.
Alternatively you can click here to purchase directly from our online store right now!
---
Want to reprint this blog entry in part or in it's entirety? Please read this first!
---