BlogLatest news at CommandFusion
We have just added the IR Blaster Pack to the store. Buy this pack to get everything you need to quickly and easily send commands to all IR controllable devices in a single room. Also receive a free iViewer 4 License for a limited time!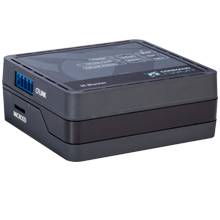 No need to run a cable to every device! The IR Blaster literally fills the room with IR from its 270° blaster output.
This Kit Contains
1 x IR Blaster - Flood the room with IR!
1 x LAN Bridge - Connect your CFLink devices to your ethernet network. This is a powerful device with many possible functions.
1 x PS-2419 Power Supply - power your system
Save 5% off the total price when you buy this kit!
Limited Time Bonus
Until July 31st FREE iViewer 4 License! - Valued at $127AUD, control your system from your mobile device!
Order Your IR Blaster Pack Now
Visit our store and order your IR Blaster Pack now and take advantage of this offer.
Note: You will need to log in to your store account to see this special deal.
---
Want to reprint this blog entry in part or in it's entirety? Please read this first!
---